RCMP Lower Mainland Youth Academy
The RCMP Lower Mainland Youth Academy is an established and formalized partnership between Coquitlam, Burnaby, North Vancouver, Surrey and Richmond RCMP Detachments and their respective School Districts.
The RCMP Youth Academy is held at Stillwood Camp and Conference Centre south of Cultus lake in the Columbia Valley at Lindell Beach, B.C. It is an eight-day program for 50 grade 11 and 12 students who aspire to a career in policing. Candidates undergo a stringent selection process conducted by schools, districts and detachments. The Academy gives candidates an opportunity to experience police training and to partake in police work simulations.
At the end of the experience, candidates have a better sense of whether they should continue to focuson policing as a career or to pursue other professions - either way, it is a win for the young people and a win for the RCMP. Upon conclusion of training, the Academy sends out 50 tremendous ambassadors for policing.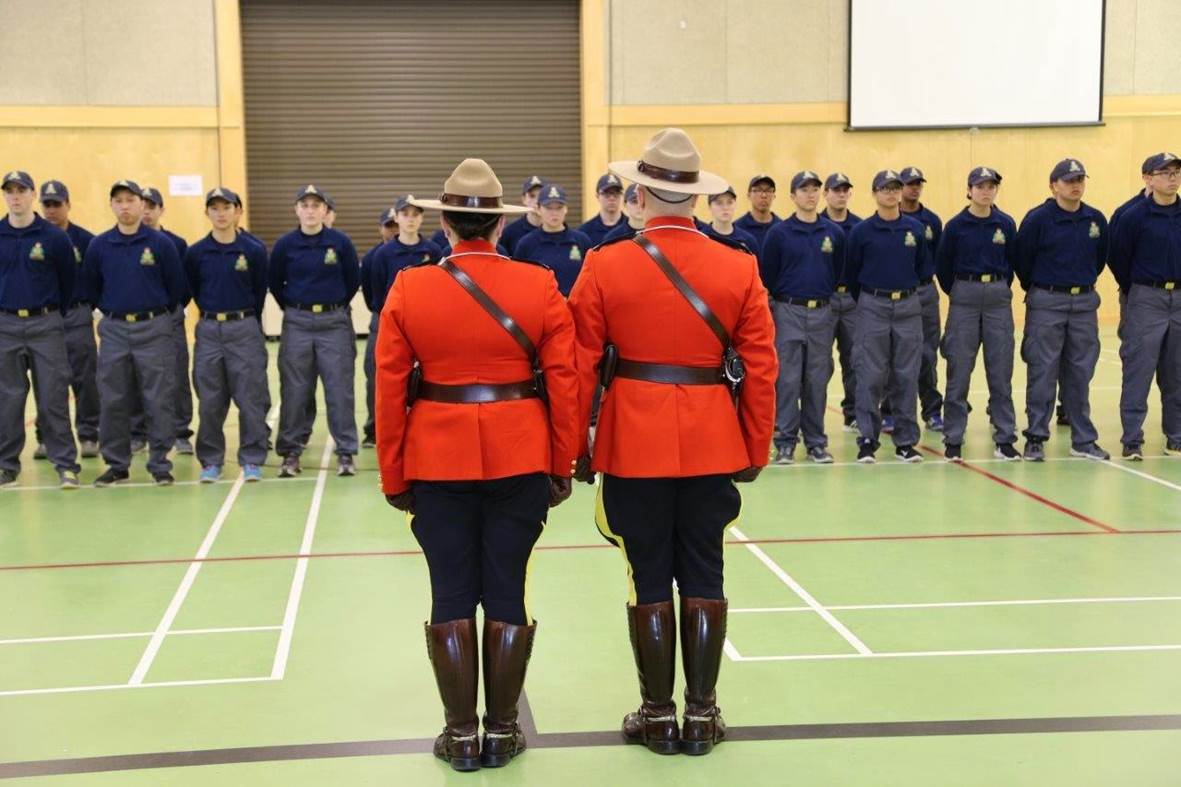 This academy is not for the faint of heart. The 50 students from five school districts are on the go from 5:30 a.m. to lights out at 10:30 p.m. every day of the academy. It is a grueling schedule, and past youth cadets say it was one of the best things they have ever done in their life. They love the structure and all the different scenarios. The week-long itinerary is split into three parts – PT (physical training), drill and police theory.
Law enforcement work is very demanding and no two days are ever the same. The Academy attempts to give a brief representation of some of those scenarios. Students observe and then role-play several scenarios including mock demonstrations of domestic violence, break and enters, traffic violations, arrests, searches, and even a mock court. Each troop of 10 is exposed to one night of scenarios, which go into the late hours of the night.
Many successful candidates have made the decision to follow a career into policing. The RCMP prefers that candidates build up some life experience prior to engagement. The average age of an RCMP recruit now is 28 years. A 2001 study of candidates who attended the youth academy in the mid 1990's showed that 80 percent of the Youth Academy attendees pursued a career in law enforcement or in related occupations such as becoming a lawyer or a probation worker.
People interested in the RCMP Youth Academy should apply in the early fall of each year through their School Career Education Coordinator or speak with a School Liaison Officer about the program.