Wanted – Mason Lee Henry-Larose
Prince George
2021-10-06 14:59 PDT
File # 2021-36949
The Prince George RCMP is requesting the public's help in locating a wanted person.
Mason Lee Henry-Larose, 21 years old, is wanted for breaching his release orders as well as several driving offenses.
Mr. Henry-Larose is described as:
Indigenous male
160 cm (5'3)
88 kg (194 lbs)
Brown hair
Brown eyes
Scar on upper right arm
Tattoo on left arm Smilley
Tattoo on right arm Crooked
Tattoo on neck "Bunny"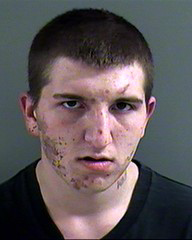 Mr. Henry-Larose should be considered VIOLENT and should not be approached. If you locate him, contact your local police immediately.

If you have any information about Mason Lee Henry-Larose, or where he may be, please contact the Prince George RCMP at (250)561-3300 or anonymously contact Crime Stoppers at 1(800)222-8477 or online at www.northernbccrimestoppers.ca (English only). You do not have to reveal your identity to Crime Stoppers. If you provide information that leads to an arrest or recovery of stolen property, you could be eligible for a cash reward.


Released by

Cpl. Jennifer Cooper

Communications NCO / Media Relations Officer
Prince George RCMP
princegeorge.rcmp.ca
455 Victoria Street, Prince George, BC, V2L 0B7
Office: 250-561-3321
Cell: 250-613-3532


Email: pg_media@rcmp-grc.gc.ca

Follow Us: