About North Vancouver RCMP
'Connected To Our Community'
- The North Vancouver RCMP is committed to building a safer community through partnerships with local businesses, residents and government agencies.
The North Vancouver RCMP is located in the heart of North Vancouver, which is situated on the North Shore of the Port of Vancouver, on Burrard Inlet, across from downtown Vancouver and Stanley Park.
North Vancouver is located on the traditional, ancestral and unceded territory of the Coast Salish peoples, including the territories of the xʷməθkwəy̓əm (Musqueam), Skwxwú7mesh (Squamish), and Səl̓ílwətaʔ/Selilwitulh (Tsleil-Waututh) Nations. The North Shore is made up of North Vancouver, West Vancouver, Squamish Nation, and Tsleil-Waututh Nations. From Burrard Inlet, North Vancouver rises sharply to the peaks of Grouse and Seymour Mountains. North Vancouver is comprised of two municipalities, the City of North Vancouver and the District of North Vancouver, and five First Nations Bands. The District of North Vancouver surrounds the City, however, North Vancouver is policed as one whole area. The North Vancouver RCMP polices four of the reserves and the fifth is policed by the West Vancouver Police Department.
The North Vancouver RCMP is committed to building a safer community through partnerships with local businesses, residents and government agencies. The RCMP in North Vancouver enjoys an excellent working relationship with the Mayors and Councils of North Vancouver and the leadership of both the Squamish and Tsleil-Waututh Nations, and boasts robust and active community involvement in its crime reduction strategies. North Vancouver's strong sense of community makes it not only one of the best places in the world to live, but also a fantastic place to work as a police agency.
North Vancouver is a beautiful place to live. It's renowned for its rural lifestyle while being situated only minutes from Downtown Vancouver. Physical fitness and outdoor activities are a way of life in North Vancouver with hiking, skiing, snowboarding, snowshoeing, mountain biking, rock climbing and scuba diving being among the popular sports. There never seems to be an end of things to do. Both Grouse Mountain and Mount Seymour are within the North Vancouver Detachment area, and Whistler and Blackcomb Mountains are only a ninety minute drive away.
---
Officer in Charge
Supt. Ghalib Bhayani
Officer in Charge
Supt. Ghalib Bhayani is the Officer in Charge of the North Vancouver RCMP Detachment. In addition to policing, he is a part-time university professor in the area of policing and justice issues. He has over 28 years of international and national police experience as a public safety leader.

He started his policing career with the Delta Police Department in 1992 and joined the RCMP in 2002. He recently returned from Iraq as the first Canadian Senior Police Advisor to the Government of Iraq in Baghdad, as part of the nascent Canadian Ministerial Liaison Team (MLT).

Ghalib's diverse police background includes positions in professional standards, which involves internal and administrative investigation, as well as community policing, police accountability, major crimes, uniform patrol, international training, and a United Nations Mission in Sudan (UNMIS). He has been a researcher in police reform, strategic planning, change management, capacity building, and organized crime programs.

Ghalib holds a Bachelor's Degree in Criminology, a Master's Degree in International Diplomacy, and a doctorate degree in governance and accountability related to policing reforms. He is the recipient of many awards including investiture into the Order of Merit, the RCMP Commissioner Exemplary Service Award, the General Service medal, and the BC Police Exemplary Long Service medal.

---
Operations Support Officer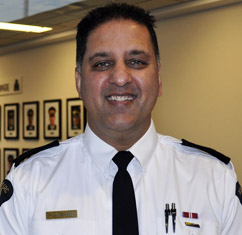 Insp. Mike Bhatti
Operations Support Officer
Insp. Mike Bhatti is currently the Operations Support Officer of the North Vancouver RCMP Detachment. He has been an RCMP officer for 23 years. He was previously the Operations officer at North Vancouver detachment. He has also held positions as a Duty Officer in Surrey and the Regional Duty Officer encompassing the entire Lower Mainland.
Prior to becoming a commissioned officer, Mike worked in the Criminal Operations Secretariat at E Division Headquarters. He has worked as a property crimes investigator, serious crimes investigator and as a drug crimes supervisor. He also spent 4 years as a special constable with the Special Investigations Unit at the Insurance Corporation of BC.
Mike holds a Bachelor's Degree in Criminology from Simon Fraser University and a Diploma in Criminal Justice from Camosun College. He is a recipient of the Queen's Diamond Jubilee Medal, a Commanding Officer's Commendation for his response to the 2010 Stanley Cup Riot, and a Commander's Certificate of Appreciation. He obtained his Public Order Silver Commander Certification at London Police College in the United Kingdom, for responses to major disasters, incidents and large scale policing operations. He is also trained as a Critical Incident Manager and Incident Commander, and has been a member of the Lower Mainland's Integrated Tactical Troop since 2004.
---
Operations Officer
Insp. Andy LeClair
Operations Officer
Inspector Andy LeClair joined the RCMP on October 29, 1990, from his home province of PEI. Following training he was posted to Burnaby Detachment and has served in the Lower Mainland during his entire service. Inspector LeClair brings a diverse background to North Vancouver, having served in Frontline policing, School Liaison, Criminal Intelligence (Gangs), Robbery/Property crime, Emergency Response Team, Training (Officer safety), Professional Standards and Community Programs.
Inspector LeClair was Commissioned to the rank of Inspector in the spring of 2016. Since then he has served as Surrey RCMP's Community Support and Safety Officer and as the Officer in Charge of the Lower Mainland District Emergency Response Team. Inspector LeClair is a Critical Incident Commander serving the Lower Mainland District.
Inspector LeClair holds a degree in Psychology from Bishop's University. He received the Queen's Diamond Jubilee medal in 2012 and was inducted into the Order of Merit of the Police Forces in 2014. He is recipient of multiple awards at the detachment level and is an RCMP Long Service and good conduct medal recipient.

---
In 1950 the RCMP provincial policing contracts extended in British Columbia and Newfoundland. The BC Provincial Police had already assumed the duties and responsibilities for law enforcement on the North Shore.
1893: The first law court was held in North Vancouver. During this time individuals within the community were appointed as constables. They were given the authority to do the community's bidding in keeping the peace.

1897: Mr. Wattie was appointed constable and held the office for two years.

1899: August Mr. A.D. Nye was appointed constable until 1902 when Mr. Charles Mee was appointed. Mr. Mee resigned in March and Mr. Jack Kaymes replaced him while acting as caretaker for the new municipal hall.

1904 June: The prefix "Royal" was conferred on the force by King Edward VII in recognition of the force's contributions to bringing peace and stability to the North West.

1906 August: Mr. H.Dick was appointed constable but resigned when Mr. Arthur Davies was appointed with Mr. Peter Stewart as his assistant.

1907: Arthur Davies was appointed City's first Chief of Police.

It was a different time but not a different place. It was here on the North Shore within what we know and come to love as North Vancouver.

1919: Chief Peter Stewart – Appointment to City of North Vancouver Police.

1920: Following the expansion of our mandate and our merger with the Dominion Police, we became the Royal Canadian Mounted Police.

1934 October 15th: BC Provincial Police assumes policing duties in the City and District of North Vancouver.

1940-1942: The RCMP supply vessel, St. Roch, makes her historic voyage through the North-West Passage.

1950 August 14,
(An excerpt from the North Shore Press August 17th, 1950)

BC Police On Duty in North Vancouver August 14th 1950.

S/Sgt. George MacAndrew #421
Cpl. Alex Sandy Millar #575
Cpl. Phil Boulton
Cst. William Cameron #1249
Cst. Al Clark
Cst. Art Cotter
Cst. Eric Cox
Cst. R.P. Dickson
Cst. Murdoch Graham #526
Cst. Bob Logie
Cst. Angus MacDonald
Cst. D.J. MacDonnell
Cst. S.T. Nott
Cst. Jack Purdy #788
Cst. George Williams #1027

The RCMP shouldered additional responsibilities throughout the Province of British Columbia with the demise of the B.C. Provincial Police in 1951.

1951 RCMP Cst. S.T.B. Scott (BC Provincial Police)

1962 October 31st New building opened.

1997 July 25th Gerry Brewer Building opened.
---
North Vancouver RCMP Detachment Strategic Plan 2019-2021

The North Vancouver RCMP detachment is proud to introduce the detachment's official Strategic Plan, which will guide our operations through to the end of 2021.

This Strategic Plan outlines North Vancouver RCMP's commitment to having a measurable impact on our communities' leading concerns while sustaining the many other services we deliver. It is anchored by four key principles: Improving Road Safety, Increasing Sense of Security, Partnering for Social Impact, and Optimizing People Capacity.

I am proud to lead a detachment that is distinctively community-oriented and indebted to your active partnership in keeping our communities safe, said Superintendent Ghalib Bhayani, This Strategic Plan is built upon a proven, progressive policing approach –beginning with education and prevention, and followed up with enforcement -to more effectively address our communities' top priorities.

Community engagement remains at the centre of our everyday work. In early 2019, the North Vancouver Detachment invited a broad range of community groups and partners to help identify the City's and District's top policing priorities. These key stakeholders included service organizations, public safety partners, and the North Vancouver Policing Committee. This guided our emphasis on improving road safety and increasing the sense of security in our communities through to 2021.
We have grown increasingly sensitive to the social impact of policing, acknowledging opportunities to value our diverse communities, minimize our footprint on traditional territories, and strengthen partnerships for people living with mental health and substance use challenges.

Our police officers, municipal team members and volunteers often encounter people on their worst days. No matter what the crisis, our team is determined to act with compassion and empathy. Ongoing investment in the capacity and resilience of our people is our strategic enabler.

We are one team with one goal, that of a healthy and safe community.
To read our full Strategic Plan, please click here.