Crime Map - March 2017
Map of Break and Enters to Businesses and Auto Crimes – March 2017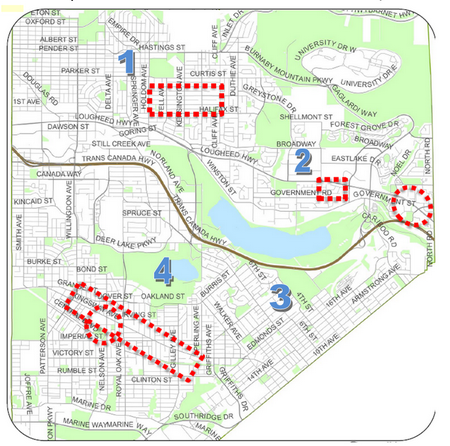 Click on link for a larger version of the map.
Crime Stats in Focus
Click on link for larger image of the stats.
Each district in Burnaby has unique crime types to be aware of each month.
North Burnaby: District One & Two

Holdom Avenue to Cliff Avenue between Broadway Avenue and Charles Street
Residential Break and Enter

Brighton Avenue and Lakedale Avenue bounded by Lougheed Highway and Winston Street
Residential Break and Enters
Lougheed Mall & Surrounding Area
South Burnaby: District Three & Four
Metrotown Mall and Surrounding Area
Metrotown and Kingsway Avenue Corridor from Sperling Avenue to Willingdon Avenue
Willingdon Avenue to Royal Oak Avenue between Imperial Street and Grange Street
Break and Enters to Apartment Underground Parkades
Theft from Auto
Vehicle Crimes

What do Thieves Think?
Thanks! You left your vehicle unlocked. I can easily enter and take what I want.
Pft! This vehicle is in a poorly lit and unsecure area. No one will see me.
Woah! Look at all the charging cords left in here. There must be a smart device left inside!
What Can You and Your Employees Do?
Always lock vehicle doors and close windows all the way! This remains the most common way thieves access vehicles.
Park in secured garages and wait for the gate to close behind you. When parking on the street, find somewhere well lit.
Remove all items from the vehicle. Thieves will steal anything.
A Different Trend – Gas Theft
A few thefts of gas have occurred, likely related to the rising cost in fuel.
Consider using locking gas caps. These make it more difficult to syphon your gas.
The cap is relatively inexpensive, and simple to use.