Crime Map – January 2017
Map of Break and Enters to Businesses and Auto Crimes – January 2017
Click on the link for a larger map.
Crime Stats in Focus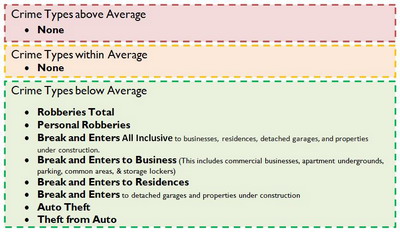 Click on the link for a larger image of crime stats.
Each district in Burnaby has unique crime types to be aware of each month.
North Burnaby: District One & Two
Gilmore Avenue to Springer Avenue between Halifax Street to Still Creek Drive
Lougheed Mall & Surrounding Area
Apartment mail theft
Auto Crimes
South Burnaby: District Three & Four
Metrotown Area and Kingsway Corridor between Sperling Avenue and Willingdon Avenue
Break and enter to apartment common areas (undergrounds, storage, and mail theft)
Auto Crimes
Royal Oak Avenue and Lane Street
Vehicle Crime Prevention Tips
White panel vans are still a target for tools and merchandise. These vehicles can be used to commit other crimes. Reinforcing locks on work vans can protect these vehicles most frequently targeted by Burnaby criminals.

Leaving vehicles unsecured is still the number one way criminals commit auto crimes. Lock it!