Stories from inside the smoke - BC RCMP Command Post in Williams Lake Gets a Special Thank You
B.C., Williams Lake, BC Wildfires
2017-08-08 18:21 PDT
Nearly 100 Mounties in Williams Lake broke into applause during an operational briefing when Staff Sergeant Clarkson, deployed to the BC Wildfires from Richmond RCMP, shared Seanna's touching story, the art piece she lovingly created and the deep meaning behind her creation.

Earlier in the day Mounties who were working in the Williams Lake Fire Relief Command Post were pleasantly surprised when they were approached by a mother and her teenage daughter, who wished to give the police officers a token of her appreciation. The young lady, named Seanna, presented the officers with a beautiful hand painted thank-you card and canvass painting that she had created. The piece of art depicted 3 red hearts, a white painted hand and blue drops dripping from each of the hearts, said S/Sgt. Laurie Clarkson.

It was explained to the police officers that the red represented all the First Responders, while the hand represented the impact the First Responders have had on Seanna during this chaotic time of her life and that the blue colour dripping from the hearts represented the First Responders risking their lives for Seanna and her family. Seanna's thoughtful gesture was accepted and appreciated by the RCMP officers on behalf of all the First Responders working in the Cariboo and Chilcotin region during this most difficult and historic time for BC.

Seanna, your amazingly thoughtful gesture has reminded us all, exactly why we deployed to northern BC, says Cpl. Jesse O'Donaghey.
Released by:
Cpl. Jesse O'Donaghey
Media Relations Officer
778-290-2929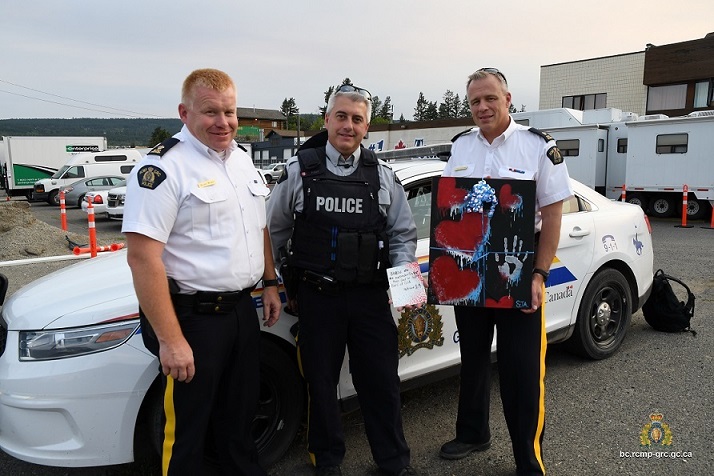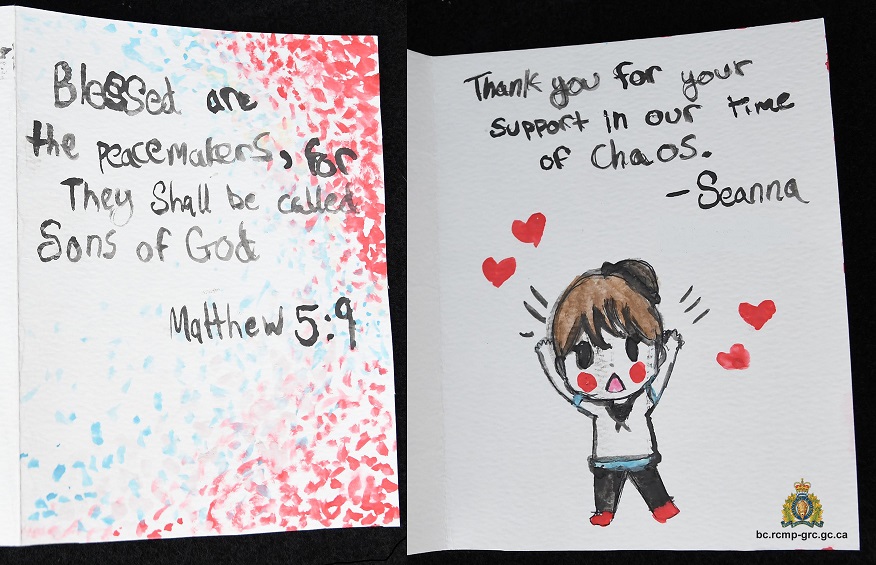 Follow Us: