Challenging rescue conditions required coordinated response
Williams Lake, Alexis Creek
2017-06-28 13:08 PDT
File # 2017-5173
Alexis Creek and Williams Lake RCMP worked with Search and Rescue and the Air Ambulance to respond to a challenging accident scene on June 27, when a horse and stage coach went down a ravine near Farwell Canyon.
A recent large mud slide in the area also compounded the demanding nature of the rescue. The horses and stage coach were taking part in an annual ride which was to culminate at the start of the Williams Lake Stampede.
It was determined that the stage coach and horses lost control and went off road, plunging and rolling approximately 40 feet down an embankment.
Fortunately all the individuals involved in this accident were conscious when rescuers arrived, says Corporal Madonna Saunderson, spokesperson for the RCMP in the North District.
Our police officers and Emergency Health Services worked together to stabilize the injured and secure them on stretchers. Then because of the steep slope, they used ropes and a winch from the police car to bring them safely to the road.
She notes four people received non-life threatening injuries and two others who were injured were able to walk up the slope. Some of the injured people were treated at hospital for injuries that have been described as non-life threatening. However one person has been admitted to hospital in serious condition.
Sadly we had to put down one of the horses involved in the accident, after receiving permission to do so from one of the elders involved in the ride, says Cpl. Saunderson.
Though there were many challenges in responding to this accident, rescuers and those at the scene really responded with true northern BC spirit, using whatever means were necessary to get people the help they needed.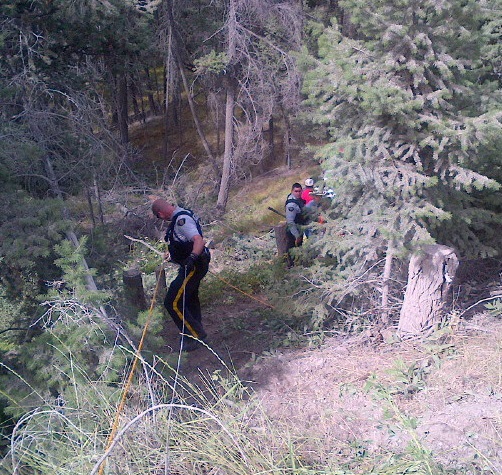 Released by

Cpl. Madonna Saunderson

District Advisory NCO (Media Relations)
North District
4020 5th Avenue, Prince George B.C. V2M 7E7
Office: 250-561-3166
Cell: 250-301-3521


Email: madonna.saunderson@rcmp-grc.gc.ca

Follow Us: