Significant amount of suspected controlled substances seized from home near school
West Shore
2017-01-09 10:57 PST
File # 2017-216
A drug trafficking investigation has net 3 suspects, two being known criminals in Langford on January 6th, 2017.
Subsequent to the investigation, the West Shore RCMP's Crime Reduction Unit (CRU) arrested three individuals. Of those individuals are a 32 year old man of Saanich, 41 year old Edgar Acevedo and 37 year old Erickson Delalcazar of Langford.
The CRU obtained and executed a search warrant in the 2700 block of Jacklin Rd, across from an elementary school. The search yielded over 600 suspected controlled substance pills and over $26,000 in cash.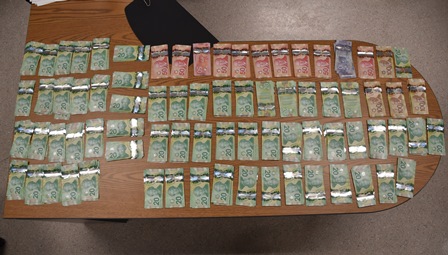 The close proximity of the school where the drugs were seized from is quite concerning. This is why we are seeking the assistance of the community with regards to information on drug trafficking or any other criminal activity in the West Shore. states Cst. Alex Bérubé, spokesperson for the West Shore RCMP.
The three individuals were charged with Possession for the Purpose of Trafficking. The 32 year old man of Saanich was released on a Promise to Appear while Delalcazar and Acevedo were remanded until today.

Anyone with information is encouraged to contact the West Shore RCMP at 250-474-2264 or call Crime Stoppers at 1-800-222-TIPS (8477).


Released by

Cst. Alex Bérubé

Media Relations Officer
West Shore RCMP
www.westshore.rcmp.ca
698 Atkins Avenue, Victoria, BC V9B 3A4
Office: 250-391-3348
Fax: 250-474-8970


Email: westshore_media@rcmp-grc.gc.ca

Follow Us: