Community partners help with Surrey RCMP training
Surrey
2017-05-12 12:55 PDT
This past weekend Surrey RCMP officers suited up for some tactical training that took place after hours at Guildford Town Centre.
On the evening of May 7th, Surrey RCMP's Training Section led a training exercise called IARD, or Immediate Action Rapid Deployment. IARD training, which was adopted in 2007 by the RCMP, is a national level training course. IARD provides officers with an array of tools and skills to deploy resources at in-progress, life threatening situations where every second lost could result in death or serious harm to innocent persons. These situations typically involve threats to the lives and safety of the public.

Part of the training involves moving in public areas to condition the officers to a variety of settings which adds to the realism, says Sergeant Jennifer Schiffner, in charge Surrey RCMP's Training and Development Unit. The ultimate goal of IARD is the safety of the public. The training teaches officers how to engage with threats and take the necessary action. We are very grateful to Guildford Town Centre's management, Ivanhoe Cambridge Group, and Paladin Security for their generous support in this training exercise.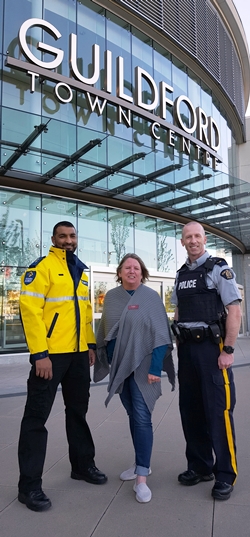 Paladin Security is proud to participate with the Surrey RCMP and Guildford Town Centre, says Rajeev Tauckoor, Security Manager of Paladin Security. This event provides our team with excellent learning opportunities and strengthens our longstanding relationship with our partners.
The security and safety of customers and staff at Guildford Town Center is extremely important, says Peggy Howard, General Manager of Guildford Town Center. The partnership with the Surrey RCMP has been a long standing one that we look forward to continuing in the future.

Committed to serving the Community
Your Surrey RCMP is committed to providing a sensitive, responsive, professional policing service for all Surrey communities. For more information about Surrey RCMP Programs, Services, how to Protect Yourself, or our latest News Releases visit www.surrey.rcmp.ca.
For media inquiries contact:
Cpl. Scotty Schumann
Media Relations Officer
Surrey RCMP Media Relations Unit
Office: 604.599.7776
Email: surrey_media_relations@rcmp-grc.gc.ca
Follow Us: