'Tis the Season for Thieving!
North Vancouver
2017-11-23 06:12 PST
Dossier nº 2017-0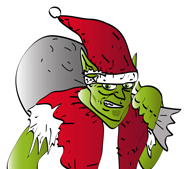 The busiest retail season of the year has already begun and with an increase in financial transactions comes an increase in opportunities for fraud artists. This year, keep your holiday shopping joyous by taking a few extra precautions.
Canada Revenue Agency (CRA) Scams:
The North Vancouver RCMP have recently received several new reports of phone and e-mail scams where fraudsters represent themselves as CRA employees. Police report people are being called by someone claiming to be from the tax agency using coercive and threatening language. The victim is often threatened with court charges, jail or deportation. In order for people to better protect themselves against becoming a victim of fraud with regard to income tax scams, either via telephone or e-mail, police recommend that people ask themselves the following questions:
Is there a reason that the CRA may be calling?
Am I confident I know who is asking for the information?
Do I have a tax balance outstanding?
Is the requester asking for information I know the CRA already has on file for me?
How did the requester get my e-mail address or telephone number?
White Rock RCMP responded to a report of a Canada Revenue Agency fraudulent phone call with a twist.
Shopping in person:
Even though you will be rushed and thinking about a thousand things, try to remain alert to your surroundings.
When paying with a credit or debit card, never lose sight of your card. Whenever possible, enter the chip or swipe your card yourself rather than giving it to the cashier.
Always shield your PIN when entering it. Don't be embarrassed – you're not insulting anyone.
Do not keep a written record of your bank PIN number(s) or your social insurance number in your wallet or hand bag.
If you suspect anything unusual when using a point-of-sale terminal (pin pad) or an ATM, do not use the machine and report it immediately to the police or the financial institution.
Shopping on-line:
Shop only from your home computer and equip it with the latest web browser. Using your home computer is much safer than shopping at a terminal in an internet café or library.
If you plan to buy something, go directly to a store's website by manually typing its address into your web browser. Don't click on links in an e-mail message even if you know who sent it.
Verify secure connections. When shopping on-line, do not enter any financial information if you see a broken-key or open padlock symbol on your Internet browser. This means the transaction is not secure and could be intercepted by a third party. When the key is complete or the padlock is locked, your browser is indicating a secure transaction.
Consider using a reliable third-party payment company such as PayPal, a credit card with a low credit limit or a single-use payment card.
Unlike secure order forms on a web site, e-mail messages are not private. Do not send confidential personal or financial information by e-mail.
When browsing auction sites or unauthorized retail websites, be cautious of drastic sale prices on sought-after designer items and popular electronics. The legitimate goods are rarely discounted.
Monitor your bank and credit card and statements on-line. Electronic statements allow you to review your purchases and payments as they happen rather than waiting until the end of the month to review your paper statement. Immediately report any discrepancies to your bank or to the company that issued the credit card.
Other tips:
Promptly remove mail from your mailbox after delivery and do not leave pieces of mail lying around your residence or office.
Shred or otherwise destroy pre-approved credit card applications, credit card receipts, bills and any documents containing personal information when they're no longer needed.
Do not provide personal information such as your SIN, date of birth, credit card numbers, or PIN over the telephone or via e-mail. There are more secure methods for providing this valuable information when it is legitimately required
Avoid mail or telephone solicitations disguised as promotions. Criminals involved in this type of scam typically offer you an instant prize or an award for the purpose of obtaining personal information, such as your credit card numbers.
This holiday season, be a Scrooge with your personal information. If, despite your best efforts, you feel you've been victimized by a scam or a fraud, you should report it immediately to the police service of jurisdiction in your area.


Diffusé par

Gend. Brett Cunningham

GRC de North Vancouver
nvan.rcmp.ca (anglais seulement)
147, 14e Rue E. North Vancouver, C.-B. V7L 2N4
Téléphone : 604-985-1311
Cellulaire : 604-754-7896


Courriel : brett.cunningham@rcmp-grc.gc.ca

Suivez-nous :