Cram the Cruiser Coming Saturday to Coquitlam
Coquitlam
2017-12-04 12:55 PST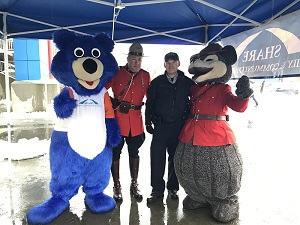 Coquitlam RCMP is asking for your help to make the 5th annual 'Cram the Cruiser' food drive a success for families in need.
On December 9th, 2017, from 11:00 a.m. to 3:00 p.m., RCMP members and volunteers will be filling up police cars with non-perishable food items donated by people in the community. All proceeds are going to SHARE Family & Community Services.
In this job we meet plenty of people who are going through a tough time and could use a helping hand, says Constable Justin Christofferson, the Cram the Cruiser organizer. We're asking you to join your local Mounties to make sure everyone in the community eats well this holiday season.
Bad weather is a bit of a tradition for Cram the Cruiser, but in spite of last year's snow, rain and ice the community stepped forward with over 550 pounds (250kgs) of food and $1600.00 in donations and we're hoping to beat that total this year.
Event Details:
When: Between 11 a.m. and 3 p.m. on Saturday, December 9th, 2017
Where: The Real Canadian Superstore parking lot, near Westwood Street and Lougheed Highway (3000 Lougheed Hwy, Coquitlam)
Visit the SHARE Family and Community Services website for food donation ideas and other ways to make the holiday season a little brighter for a family in need.


Diffusé par

Cap. Michael McLaughlin

Agent des relations avec les médias
GRC de Coquitlam
coquitlam.rcmp.ca (anglais seulement)
2986, Guildford Way, Coquitlam (C.-B.) V3B 7Y5
Téléphone : (604) 945-1580


Courriel : coquitlam_media@rcmp-grc.gc.ca

Suivez-nous :