Un mot de remerciement
Les membres de la GRC en C.-B. sont très fiers de dispenser un service professionnel aux collectivités qu'ils servent. Il est rassurant pour eux de savoir qu'ils ont fait une différence dans la vie de quelqu'un.
Si votre interaction avec un membre, groupe ou détachement de la GRC a été une bonne expérience, nous vous invitons à nous en faire part dans la langue officielle de votre choix à bcrcmp@rcmp-grc.gc.ca
Les lettres de remerciement seront publiées dans la langue officielle dans laquelle elles sont reçues. Celles qui nous sont envoyées en anglais ne seront traduites que sur demande. Si vous désirez lire une lettre de remerciement en français, veuillez faire parvenir une demande de traduction vers le français à C.-B.rcmp@rcmp-grc.gc.ca en indiquant la date du courrier et l'endroit d'où il venait.
Burnaby 2017-12-21
Le 21 Decembre., la GRC de Burnaby a reçu par la poste ce mot de remerciement (seul anglais).
We are a daycare located in North Burnaby and we just wanted to write some cards and letters to let you know how much we appreciate the RCMP and for putting your lives on the line to make sure the people stay safe ...
---
Comox Valley 2017-11-24
Want to take the opportunity to thank an officer from the Comox Valley detachment for helping a stranded motorist today on Cliffe avenue. The vehicle stalled on a busy intersection. It was absolutely pouring out, the officer got out of his cruiser and helped the driver pushed the vehicle off the road and into Service BC building parking lot. Thank you for keeping us safe and helping us in times of needs. Big and small. Thank you.

Margaret L
---
Penticton - 2017-11-20
I drive a Taxi in Penticton 12 hour 5pm – 5 am, I see patrol cars in my area, and they often keep an eye on me when I load and unload, a friendly wave, makes me feel safe in certain situations. Wonderful service and comfort. A big thanks to all you are appreciated.
D. Alspaugh
---
North Vancouver - 2017-10-23 (North Shore News)
An open letter to the North Vancouver RCMP and the West Vancouver Police Department:
I'm writing on behalf of my family to express our gratitude to the North Van RCMP and the WVPD for their outstanding community service. My grandfather, a longtime resident of North Vancouver, passed away last month at the age of 84. In the last few years of his life, he struggled with dementia and his mental health deteriorated steadily.
As time went by, he became lost and confused more and more often on his walks around Ambleside, Park Royal and Capilano Road. Several times, officers of the RCMP and the WVPD went above and beyond their duty to patiently assist him and ensure he got home safely. It would be fair to say he was a stubborn man, and coaxing him into a police cruiser could not have been an easy task.
Most often, our police officers do not get much recognition for the great work they do in our communities. I'd like to extend a heartfelt thank-you to the North Vancouver RCMP and the West Vancouver Police Department for the remarkable diligence shown by their officers.
McDonald and Yates families
North Vancouver

---
Prince George 2017-10-13
Around 4:30 this morning, officers from the Prince George Detachment, with the help of a K9 unit, apprehended an apparent runaway criminal hiding in my back yard, right outside my son's basement bedroom window. Having previously been awakened by a noise, I got up to investigate (from the inside, looking out) and got to see members of the local police force in action. WOW! While it was scary as hell to see police, weapons drawn, following the police dog around the side of my house, I was impressed by their outwardly appearing calmness, and, given the situation, their relative quietness in executing the resulting takedown. And then they even apologized to us for waking us! Absolutely no need for that...they were doing their job (and doing it very well!), keeping people safe! Huge thank you's and kudos to these officers! Wish I could give you all more!!! And although I heard them praise the dog, I sure hope that dog gets a nice juicy steak for its work early this morning! When taken out later this morning, my little Shih Tzu was "nose to the ground," investigating this scene. Mine is very much an "animal friendly" house/yard, and I know that police dog had to disregard a whole lot of scents to do its job (Kudos to its trainer!). Thank You, PG RCMP, for a job well done!!!

Solus Ipsa

---
Westshore 2017-09-08
As upset as I am over having to absorb $1663 because of my husbands excessive speeding yesterday, I am thankful he was caught. I often get passed by people driving way too fast and one always hopes to see them up the road, pulled over by the police.
I am sure many people felt extremely satisfied when they saw my husband in this situation. I am happy for you. I am mostly thankful because I know that he has been cured of his wreck-less behaviour, although rare for him we all know horrible things can happen in an instant.
Thank you Westshore rcmp for keeping our roads safe, and my husband alive.
---
Revelstoke 2017-08-25
Hello, I am just dropping a quick note of thanks for pulling my 17 year old son over in the Revelstoke area for speeding on the August Long weekend. I am sure that you don't often receive notes of Thanks but our family appreciates the work you do. It can't always be easy to do the work you do. Thank you!
Behind the ticket is the oldest of four kids two younger sisters and a younger brother that look up to him and adore him.
Behind the ticket is a young man who just graduated from highschool and has acceptance to 2 Universities for business.
Behind the ticket is a graduate voted most "Reliable friend"
Behind the ticket is a young man headed East to pursue his hockey dreams with the Brandon Wheat Kings.
Behind the ticket is a country boy who loves trucks, dirt biking, fishing and music.
Behind the ticket is a sports enthusiast that loves volleyball, basketball, surfing, and skiing
Behind the ticket is a summer construction worker that worked long hours to fix up his old beater truck
(and learned a lesson when he worked a full day to back his speeding ticket)
Behind this ticket is a family that thanks you for slowing him down, because speed kills and we would never be the same without him
---
Fort Nelson 2017-08-02
I wanted to thank you for your assistance on June 29th, 2017. My friend and riding partner were on a motorcycle trip from Charlotte, North Carolina to Alaska and returning to southern California. After covering 4,000 miles, we were excited about actually being on the Alaska Highway and enjoying the breathtaking scenery in British Columbia on our ride. At about 150 KM before reaching Ft. Nelson, I moved to the wrong side of the road and hit a pot hole, which I can see from the video that was running on my motorcycle was marked for repair. Fortunately for me my riding partner and some helpful travelers helped to comfort me and assist with traffic. I personally do not remember much of anything about the accident and the assistance that the RMCP provided.
My riding partner did tell me that your officers helped to remove the equipment off my motorcycle and keep it at the station until one of us could pick it up. My partner said the next day when he went to get the luggage, you carried the luggage and equipment from the station to the rental car for him.
I have always had deep respect for law enforcement and this instance continues to reenforce my respect and admiration of those who protect and serve across the globe.
My wife, family and I thank you from the bottom of our hearts for you assistance that day. May you all be blessed and kept safe.
Don
vallée du Comox 2017-07-17
La GRC de la vallée du Comox a reçu cette carte de la part de deux jeunes filles très reconnaissantes. Ces dernières s'étaient fait voler leur tirelire lors d'une introduction par effraction survenue dans leur résidence. Lisez le communiqué intitulé La GRC puise dans ses proches après le vol d'une tirelire afin de savoir comment les employés de la GRC de la vallée du Comox ont uni leurs forces pour soutenir la famille et, en particulier, les deux jeunes filles.
---
Burnaby 2017-06-14
This is overdue but better late than never.
On Saturday May 6 we were looking after a neighbors dog when it escaped. The RCMP were contacted. I did not expect your officers would be willing nor able to offer much assistance. I was wrong. Two officers responded and were extremely helpful. However despite the officers best efforts the dog was hit by a car at the corner of Oakland and Elgin. The male officer attending provided a plastic sheet and helped load the wounded dog into our vehicle. The female officer even gave us the address of the nearest vet. In short I want to publicly thank the officers involved in this tragic event. They went above and beyond.
D. Kincaid
---
Chemanius 2017-06-15
I'd like to pass on my thanks for your team's care of Chemainus Secondary School. On the day of the Snapchat threat to the school my daughter's PE class went outside to play softball. Two officers who had been patrolling by bike came over and joined in the game. My 14 year old daughter has not had interaction with police before and was impressed that they would do that. She also couldn't stop talking about what good players they were!
Thank you for succeeding in helping the kids feel safe on a strange day.
Michelle Smith
---
Surrey 2017-06-20
Lettre que la GRC en C.-B. a reçu de la part des élèves d'une classe de première année de l'école primaire St. Matthew's.
---
Mission 2016-06-14
Hello! My name is Jennifer and my husband's name is Derrick. Over the weekend, my husband and I
decided to take our boat to Stave Lake. We like to venture off to the far end of the lake where it is very quiet. Not a lot of boaters are in this area. Well, this came back and bit us in the butt. We had enjoyed a few hours at our quiet location with our dog, and enjoyed a nice lunch. When it came time to head back to the dock our boat motor wouldn't start. We changed the spark plugs....double checked the gas...thought we flooded the engine.... waited for about 20 min and still nothing. We were now stranded. No cell service and no back up motor. We noticed a boat that went by earlier ...and at this point our only option was to wait and pray.....and try not to panic. Behold across the lake a boat was headed in our direction!
It was the RCMP pontoon boat! Thank goodness! Two constables from Mission detachment came to
our rescue!!! Probably the last thing they would want to do because we all knew it was going to be a
very slow tow. It took 2.5 hours to get us safely back to the dock. Both constables were very
professional, very friendly and gracious!! If it wasn't for them, who knows what would have happened to us. We honestly can't thank you enough!
Our SINCEREST, WARMEST, HEARTFELT THANKS!!!!

---
Détachement rural de Tk èmlups
A BIG thank you to the Three officers who came to our rescue on Saturday from the Kamloops rural detachment.

Our day started off great we were following my husband and my father-in-law on their motor bikes for a drive in the lac du bois grasslands. We were separated from the boys during a bathroom stop and followed the same path we planned on going with them figuring we'd find them a few feet ahead, after a few minutes we found the roads becoming a bit treacherous and agreed to turn around the next area we had space too, well.... there wasn't anywhere to turn around, so we looked on the map and saw that we were almost out on the other side of things and since the road behind was steep, it was easier to keep going down then to try going back up. We got to a fork in the road to the left was gated and locked and to the right the road was washed out and so we tried to go back the way we came and the vehicle wouldn't have any of that.

We were stranded. With two kids.

My mother-in-law walked around till she got a cell signal, she was able to contact 9-1-1 to reach for help, the operators on the line were extremely helpful and assured us they would get us out of there safely, even if they had to get search and rescue to ATV us out. We contacted our family to make sure our Hubbys made it back ok.

Three RCMP officers found us, they were amazing. Not once did they make us feel stupid or ashamed for getting ourselves into a predicament like this. In fact they told my mother-in-law she was an awesome driver for getting through the roads so smoothly. They made us feel safe, they told us they were just here doing their job and not to feel bad for needing them. They stayed there with us for hours, we finally got a plan to get our family to go around and meet us in the other side of the washed out road to walk through and get the kids and ourselves to safety, there was a final officer who stayed with us, RIGHT UNTIL THE END, even though he knew we had family coming to get us from the other end, he never left. He stayed with us for hours! He made sure we were safe and even stayed with us while some local ATV path riders helped us all to get through the washout with their winch.

I tried so hard to make a mental note of all of the officers names especially the one who stayed with us to the end, but of course in my motherly panic and adrenaline it has slipped my mind,

But to the final officer who stayed please know from the bottom of my heart, thank you, thank you so much. Thank you for staying with us and keeping us safe, thank you for everything you did. It'll never be forgotten.

You are literally our Heroes.

With much appreciation and thanks,

The Pecks (Siobhan, Marissa, Liam and Desmond)
Photos ci-dessous : Camionnette très sale du gendarme Buck, photographiée lorsque celui-ci est rentré au Détachement rural de Tk'emlúps.
---
Hope 2017-05-26
Hello, I have a small story that happened to my family over the long weekend that I would like to share (it's a feel good story)
On my way home from camping with my wife, two daughters and dogs my truck (towing a trailer) blew a transmission cooler line spraying fluid everywhere. This happened between Peter's road exit and flood hope rd right after the scales.
Fortunately for me one of your fine highway patrol men saw this happen and zoomed up behind me, using his patrol car to block traffic so I could assess the situation without worrying of vehicles. This was so much appreciated. I have been in the same position before and it really sucks.
Not only did he help with traffic, he also held traffic until I was able to get to speed, followed me up to the next exit, and then followed up making sure we were all Okay.
He went above and beyond what I could ever ask for. I wasn't able to get his name as I had a lot on my plate, but if this could somehow make it's way out so he may read it.
Thank you. Thank you very much.
Travis

---
Chilliwack 2017-05-10
Lettre reçue au bureau de la Police communautaire de la GRC de Chilliwack situé sur la rue Wellington.
---
Chilliwack 2017-04-19
Today while walking in chilliwack I dropped my purse and everything that was in it scattered so I knelt down to pick everything up. A police officer drove up behind me and immediately pulled over, obviously thinking I was hunched over because I was hurt or upset. She parked and came up to me and asked if I was ok. She was so kind, and so concerned, and it really impressed me to see such a friendly and caring face! I didn't catch her name, but she is black and appeared to be younger than thirty! I hope you can figure out who she was and tell her I say thank you for caring!
Jordyn

---
West Shore 2017-03-17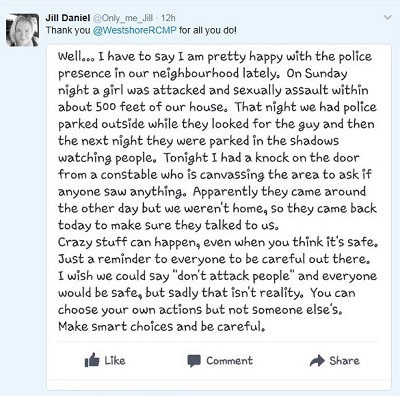 ---
Comox Valley 2017-03-14
Joan Cotter attended today to pass on a huge thank you to the members who attended with EHS to assist her son R. Macdonald today.
Ms. Cotter stated that her son has had a brain injury and has some difficulties with mobility and after falling out of bed, he could only think to call 911. (In order to gain entry, and avoid damaging a door or window, they entered through a dog door).
Macdonald was so impressed by the professionalism and quick response by the RCMP and Ambulance and wanted to pass on his thank you!
---
Richmond - 2017-03-10

Dear Officers,
My wife (Sandra) and I would like to thank Constable Galbraith for his quick and professional response to our report of the loss of her laptop at the Richmond Centre on Friday (March 10) afternoon.
He was quick on the scene after Sandra had filed the report by phone.
To our relief, someone had found the laptop and returned it to the Richmond Centre security office at around 7.45 pm. Constable Galbraith retrieved it from the office and returned it to us.
He was a calming influence during our panic as the computer contains a lot of valuable personal and professional information.
Thank you RCMP and Constable Galbraith for giving us confidence that we're in good hands.
NWH


---
Sun Peaks - Kamloops 2017-02-21
You folks are AMAZING!
3 families from Ontario arrived to ski at Sun Peaks yesterday. At the end of the day when we realized that 5 of our loved ones had not arrived home the Sun Peak ski patrol (Jay and Chris) and team swung into action! They next contacted the RCMP and Josh Buck was our contact. After several hours about 21:00 hrs 3 of our young adults thankfully appeared to the Search and Rescue truck where the team and our contact Kevin looked after our children as well as our needs. We were still missing 2 adult
males as well as we learned that there were 2 other men also still at large. Many hours later well into the wee hours of the morning the persistence of the drone team located our party of 2. The rescue teams then pinpointed the location of our family members and brought them to safety!
Many thanks to all for your patience, persistence and forever calming spirit. We are forever indebted to you and your teams of awesome volunteers! Please pass this on to the teams and members involved in last night's heroic endeavor.
On behalf of all of our grateful families
---
Vernon/North Okanagan, 2017-02-15
Le 15 fév., la GRC de Vernon-Okanagan-Nord a reçu par la poste ce mot de remerciement d'un élève de l'école primaire Silverstar, à Vernon.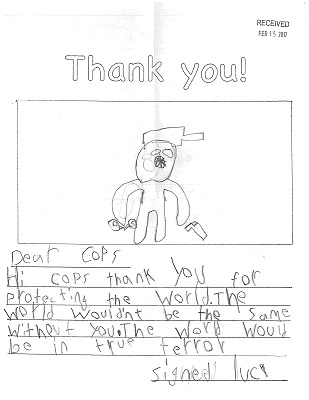 ---
Shawnigan Lake, 2017-01-30
My name is Brian Doucet and your contact information was provided to me from my friend Rob Webb.
Shortly before Christmas, I believe you stopped my son Jackson in a new driver overloading situation at Shawnigan Lake School arena. Rightly so, as he is 17 and was about to leave school driving a vehicle carrying 3 other people. I am sure the vast majority of others in your situation would have written up a ticket but instead you presented him an option. I may be off in the finer details as it took Jackson a week to gather the courage to tell me but my understanding is you gave him the choice of writing a 1 page paper reasoning why overloading should be a law or accepting the ticket. He told me he accepted your offer and completed the paper for you.
I want to thank you for giving that young man the opportunity to learn so many important lessons from his mistake. Jackson already has a strong sense of community but you have deepened that reasoning for him and in a time when there is so much backlash and negative media against the various police forces you showed him an understanding side. We took the time to talk about overloading and the dangers and distractions it presents to new drivers. I am certain he is more enlightened to those facts now and of the responsibility he has.
Thank you for the way you handled this situation, i am sure you dont hear it often enough.
Brian
---
North Vancouver 2017-01-10
Mardi dernier, soit le 10 janvier, quelqu'un est venu remettre une carte de remerciements (ci-jointe) et des fleurs à un préposé à l'accueil du Détachement de la GRC de North Vancouver (les fleurs se trouvent toujours sur le comptoir à l'accueil). Les présents étaient de la part de la famille Aminzadeh, de North Vancouver.

Narges Aminzadeh tenait à exprimer toute sa reconnaissance aux policiers du Détachement pour le soutien qu'ils lui ont apporté et le professionnalisme dont ils ont fait preuve lorsque sa maison familiale a entièrement brûlé en mai 2012.

Narges, maintenant âgée de 75 ans, m'a raconté que les membres de sa famille avaient tout perdu en Iran avant de fuir vers le Canada. Lorsqu'ils ont tout perdu de nouveau après l'incendie, ce fut une dure épreuve pour eux. Cependant, quelques années ont passé, et ils ont rebâti une nouvelle maison ainsi qu'une nouvelle vie. Son époux a été grièvement brûlé au visage, mais les membres de sa famille s'estiment tout de même heureux que la vie leur ait donné une nouvelle chance. La dame a mentionné qu'elle était à la retraite, mais qu'auparavant, elle enseignait dans une école. Elle a réitéré que sa famille devait beaucoup aux membres de la GRC de North Vancouver pour tout ce qu'ils ont fait pour elle.


---
Cranbrook 2016-12-11
This is a THANK YOU. On Sunday, Dec 11 at approximately 5 pm a flat tire had me sitting on the shoulder of Hwy 3 just east of Cranbrook waiting for assistance when two of your cruisers bracketed me for safety. One officer even offered to change the tire for me if the tow truck was going to be a long delay. And that officer stayed until the truck arrived and loaded up my vehicle. I'm sorry I didn't get your name. Many thanks, and Merry Christmas.
Marymae Johnson

---
Surrey, November 2016

Although this happened many years ago back in 2008 it has had a lasting impact on my life as well as my child's! I unfortunately was caught in a domestic disturbance and officer Tyner Gillies from the Surrey detachment came to my aid that day. As you can imagine, the ordeal was not only frightening it was also traumatizing. Tyner kept me calm and provided me with all the information I needed to move forward with seeking justice and my life. During the trial he was kind, caring, friendly and emotionally supportive! I knew that I had the courage to stand up for myself and face my ex because he was there at my side! A few years later, he continued to offer email support and answered any questions that had come up. Without him, my child and I wouldn't have the life we have now! We are happy, safe and Tyner has made all the difference in our world. So I would like to personally thank him and the RCMP.
---
Ridge Meadows 2016-11-25
Sir, Good Morning:

My note is delayed as a result of some family issues that came up suddenly. My wife and I were amongst the thousands of residents that took part in the Remembrance Day Ceremony in Maple Ridge earlier this month. We were standing with some friends waiting the parade to approach and I noticed Cpl. Steve MARTIN checking the route on his police motorcycle. That in itself is not particularly noteworthy but watching Cpl. MARTIN not only carrying out his duties to ensure the safety of all those participating in the event, but I noticed that he also took time to wave to numerous young children as he made his passes back and forth on 224th Street. Once the parade had passed and all of the participants of the parade were in position I again noticed Cpl. MARTIN, now walking through the crowd on foot. Cpl. MARTIN made several passes by the area where we were standing and on each pass not only was he checking to ensure the safety of all those attending but he also took the time to interact with numerous young children in the crowd, each time stopping, taking a knee or squatting down to give each youngster a high five. As the ceremony was drawing to an end and the parade was beginning to approach 224th Street, Cpl. MARTIN arrived on his motorcycle to escort the parade north on 224th. As the parade was approaching Cpl. MARTIN noticed a few young children who obviously wanted his attention. Cpl. MARTIN checked on the approaching parade, placed his motorcycle on its side stand and quickly went over to the children and gave each of them a high five and quickly returned to his bike just in time to carry out his duties.

Not only were my wife and I greatly impressed with Cpl. MARTIN and his interaction with the children but our friends were also greatly impressed and made some very positive comments as did numerous other people standing nearby. Cpl. MARTIN's actions on that day are not only a credit to him but a credit to the Force as well. I believe he is an excellent role model for some of the other members of Ridge Meadows Detachment. The bright smiles on each child's face as well as their parents are a testimony to positive influence he had on the citizens of our community.

My heartfelt congratulations to Cpl. MARTIN.

Don JETTE
---
North Vancouver 2016-11-20
My mother, Ines Reyes, was hit by a car and suffered serious trauma while walking on the sidewalk near Lonsdale Avenue and West Keith Road on July 20. She was hospitalized due to her injuries and we expected that she would come home on Sept. 7. Unfortunately, Mom experienced complications at the hospital, where she passed away Sept. 14. My father (Jorge Reyes) and I are heartbroken and we miss her deeply.
We would like to thank all those who were involved in saving her life. Mr. M. was the first at the scene and feverishly attempted to stop the driver from hitting her while reversing to leave the sidewalk. He also applied pressure to stop the flow of blood until the ambulance arrived. We owe you a great deal of gratitude for taking the time to help a stranger who means the world to us. We have never met you but you are forever in our hearts and thoughts.
We are also indebted to several North Vancouver RCMP officers for their support, empathy, guidance and compassion; Const. Chris Noordlund, who gave me the terrible news kindly and carefully; Const. Blaise Picketts, who sat with me at ICU in Lions Gate; Const. Robert Savill, who gathered valuable information; Const. Shane Padilla-Thorntons, who answered my questions personally and via email; Const. Peter Kennedy, who was a constant source of support and information at the RCMP office, and Sgt. Bryce Petersen, whom I never met, but I understand took extra time to gather evidence. There may be others involved and we apologize if we have left anyone out. We would like to recognize all these dedicated officers who gave so much of themselves to help us cope with this unbearably painful and traumatic experience.
We would also like to thank the City of North Vancouver, which quickly put up a barricade to stop drivers from parking there. They have now also placed boulders on the sidewalk, which (I hope) will be the beginning of a parklet with flowers, trees, a memorial bench for Mom. You all have our eternal gratitude and will be forever in our hearts.
Cristina Reyes North Vancouver

---
Burnaby
I didnt get much sleep last night and did not monitor my speed that well resulting me in being pulled over by one of your officer this morning at 7:50AM (Badge # 61769).
I noticed some small things that caught my attention for example she fixed the N sign I had at the back and she was really polite while being very professional and doing her duties , and she concluded the matter by giving mew a "notice and order".
I am grateful for her being reasonable and caring and I hadn't had the chance to properly thank her.
Please thank her for me,
---
Fort St. John, 2016-10-18
I wanted to post this on your page, but Today I watched a police officer turn his lights on, pull over and get out of his car. He approached an older lady who had been standing on the corner. I thought he was going to reprimand her or something but instead he did something I'd never seen before... he offered her his elbow. He then Proceeded to walk the lady across the street. Made me think... not all police officers are going to give you heck for something and there are people out there that want to make the city a better place. #randomeactsofkindness #bcrcmp
Christina Burgess

---

Gibsons, 2016-10-06
L'article Kindness is the healing force ( La bonté est une force inouïe ) a été publié le 6 octobre 2016 dans le journal Coast Reporter et traite de la bonté dont le gendarme Ben Stewart, de la GRC de la Sunshine Coast, a fait preuve à l'égard d'un membre de sa collectivité. (Article en anglais seulement.) Here in Gibsons, things are pretty quiet. That's why I was surprised to see one of our RCMP officers running full speed after a shoplifter through the parking lot at the London Drugs store
---
Burnaby, 2016-09-01
This afternoon I witnessed two officers from Burnaby RCMP dealing with a homeless women on Kingsway. She appeared to have some mental health issues and was causing a problem with the Starbucks and got into verbal altercation with someone. I saw the two officers spend a lot of time working to calm down the woman and talk with her. When they decide that they were going to take her to the hospital they had to use some force to get her up and into the car, they then allowed her back out of the car to pack up her stuff. They were very patience with her and her process for packing up. As it is a very hot day out I am sure it was not very easy for them to be standing out there for almost an hour and show such patience and understanding. They treated her with a great amount of respect. I was very impressed with both of them.
Anonymous
---
Kelowna, 2016-08-22
Wanted to say a big thanks to Sgt. Woodcox of Kelowna RCMP for keeping me safe after my car stalled on Harvey and Richter today during rush hour. He was calming and courteous and helped me get towed right away. Please pass this on if you can!
Thanks, Heather Cryer
---
Grand Forks, 2016-08-20
Id like to thank the two officers who bought popcicles for the kids at the water park today, its nice for our kids to see you up close and personal and you made their day, I only wished I had taken a picture, cant believe I didn't do that. It was amazing to see the policing interacting with our kids giving a positive connection with them, I know my grandchildren were so excited to talk to them, we need more of this so many kids just hear about police not positive and I for one appreciate what they did my grandson just turned 3 and he's afraid of everyone but he went up to them and got a Popsicle and said , thank you officer. It was great...I always tell him positive things about the police I'm proud it stuck n they proved it.
Trudy Gregory
---
Tumbler Ridge, 2016-08-13
I wanted to say a big thank you to all the members that were in Tumbler Ridge for the August long weekend during our Grizfest music festival. I am the camp attendant at the Monkman RV Park in town. The park was very full. The RCMP members came through the campground on Friday talking to the guests and continued to have a presence driving through and stopping to talk to myself and guests throughout the weekend. I know their presence contributed to the positive weekend experience here at the RV Park and overall throughout the busy weekend in town. Thank you all for your dedication to keeping my community safe.
Roxanne Gulick
---
Surrey, 2016-07-24
Morning! I'm not sure who to contact and I figure this is the best place. I just wanted to send a HUGE thank you to the officers that took a few minutes out of their busy day yesterday to answer the many questions my daughter had about what they were doing. They were the Integrated Road Safety Unit that was down around Scott Rd and 72nd yesterday afternoon/evening. I think it was constable Schmidt and the boss man Don? Anyway, if you can get this to them, to say thank you again and that it really meant a lot to her and I think it's so important for children to know who the good and safe people are that can help them, that would be much appreciated. She was sooo excited the whole way home after and all evening.
They stopped back after dinner with her sister so that she could get to sit in the car and ask questions and they even each got issued a "real ticket" one for not cleaning their room and the other for taking her sisters stuffed animals. The girls are 5 and 6 1/2 so this was quite exciting for them.
Orene
---
Dease Lake, 2016-06-21
On the evening of June 21, 2016 while returning from a two week trip to Alaska. Our family had serious rollover accident about ten miles north of Dease Lake on the Cassiar Hwy.
Cst. Jaime Moffat responded to the scene after receiving a report from a local citizen. No one was seriously injured and Cst. Moffat brought the four of us back to town and began a search, to find us a place to spend the night. She went far beyond our expectations and located a family that took us in.
The next day, Cpl. Steve Woodcox and Lynnda Rygaard at the Dease Lake RCMP Station made us welcome by allowing us to use their Lunchroom to make phone calls to insurance companies, family, and others to arrange our return to the U.S.
The kindness shown by these RCMP employees over a period of three plus days helped us to recover emotionally and aided significantly in our ability to make our way back home.
Thanks! to the RCMP and Residents of Dease Lake for their love and care. You are appreciated and will never be forgotten...
Sincerely, Dennis and Janet Childers

---
Richmond, 2016-06-15
This is a complimentary letter. Your officer, David Purghart, hope I got that right was checking for distracted driving on no. 3 rd in Richmond bc on June 15-2016. Well, I ran out of gas.
Constable David pushed me through an intersection where I could park my vehicle and go and get gas. What an exemplary individual. I returned to the intersection and wanted to give him a Subway card-but he said he couldn't accept it-rules. Well I just want to say this guy is a fine example of a police officer and he made my day, please forward this to his supervisor with my thanks, thank you David you're all class.
Paul Hickey
Mission, BC
---
Revelstoke, 2016-05-30
On May 30th 2016, we were traveling along the beautiful Lake Mara as a tour group on a bus and decided to take a quick stop to take some pictures. The overwhelming Canadian beauty with its amazing scenery, crisp fresh air, and the bright sun overwhelmed me and made me forgetful. Inadvertently, I left my handbag on the grass while taking some pictures and realized what I had done some 90 minutes later at our next stop. A deadly chill paralyzed me my passport, credit cards, cash all of my most valuable possessions were left inside my expensive purse. The situation was devastating as this was the second day of our ten-day trip throughout Canada. My catalepsy suddenly turned into a severe anxiety attack and I called 911. I had a difficult time trying to explain to the operator my location and the purpose of my call. A police car was sent to my location, and it was then that I was greeted by an officer from Revelstoke RCMP. Patiently he gathered all information and asked for me to wait. I believed that my chances of recovering my purse were slim to none; The officer was simply too young and too handsome to help me in this matter. However, about ten minutes later, he called me to deliver some magnificent news an extremely similar purse was located. Because I was in a group and our tour had do keep moving, I had no choice but to go to our next stop a city an additional 30 minutes away. He had to have driven with the speed of light, because it only took him 45 minutes to retrieve my purse and deliver it to me, but not before stopping 100 yards short of our bus to give someone a well deserved speeding ticket.

I would like to express my gratitude to the Canadian Police Department for being professional, proactive, and determined to help a tourist in need. To the Officer from Revelstoke- you were efficient, swift to act, and terribly handsome. Thank you from the bottom of my heart for all of your help in this matter.
Sincerely, Dr. Tatiana Schaumann
---
Burnaby, 2016-05-20
On the evening of May 20, I was arriving home with my wife and two young children at our Burnaby townhouse complex. As I was nearing our home, I spotted a strange man standing on the road, bent over, trying to start a chainsaw. I had never seen this man before, and you could immediately tell by looking at him that something was very wrong. I drove past him to our unit and pulled in to the garage. As I got out of the car, I could hear him angrily shouting out, demanding to speak to "somebody from the strata council". It was obvious he was very angry, and clearly had an issue with the strata council. As he continued shouting, he successfully started the chainsaw. There was absolutely no reason for him to have a chainsaw (there are no trees in the area), other than to use it to cause property or personal damage, which seemed to be his intent. I immediately closed the garage door and phoned 911, sending the kids upstairs. I explained the situation to the 911 operator and, impressively, the Burnaby RCMP was onsite with multiple vehicles and officers in under two minutes. They immediately detained the man in question (before he caused any damage), and then spoke to the multiple residents who had called 911. I was so impressed with the speed, response and professionalism of the Burnaby RCMP. This was a pretty bizarre and potentially dangerous situation, and I want to sincerely thank the Burnaby RCMP, and specifically the individual members, that responded so quickly to ensure the safety of our neighbourhood families and homes. So often our police are taken for granted, but when something like this happens it certainly makes you appreciate how essential they are to our community safety, and I wanted to express my heartfelt gratitude and appreciation for a job very well done.
Sincerely, Tim Lang
---
Burnaby, 2016-05-13
I attended the Safety Skills Challenge, for women only, on Friday May 13th.
First, I want to thank the Burnaby RCMP and the riding members there. What a great idea.
I struggled at times to complete the course. I learned to ride late in life. I had great training in Ontario and I have worked hard to build street and highway skill here in BC. I follow my husband and he is a good teacher. He and I came together Friday. He watched me, and he was so impressed with the patient, supportive, and respectful teaching going on, as well as with how much I learned, that he came back on Saturday. He didn't do so well either, but now the two of us will be working to 'fine-tune' our riding skills based on what we learned.
So, second, we want to compliment everyone there helping riders learn. There was no judgment evident. That means a lot to me. I've worked harder than you can imagine to learn what I've learned so far, certainly harder than any of the burly bikers that sometimes give me a hard time.
All my husband and I experienced Friday and Saturday was genuine care that we learn what the skilled RCMP riders know about keeping themselves safer on the roads.
My dad was in the RCMP for a number of years. I know there is bad press sometimes these days. He wanted to join the RCMP from the time he was a little boy because the RCMP to him meant quality policing and exceptional professionalism. I am so proud of my dad because that is what I saw him and his fellow members represent. That is also what I saw on Friday.
Again, thank you to all, Wendy Blatta


---
Williams Lake, 2016-04-25
Thank you all so much for your hard work and dedication toward making Williams Lake a safer place. This is my home, my town, where my heart belongs, and I want to be able to watch my kids walk to school without worrying who is sharing the sidewalk with them. I want things the way they used to be, when you could take a walk at dusk and not have to worry about the people driving past you. After Monday morning's events, it has become clear just how invested our RCMP is in making those things possible again. Again, thank you to the Williams Lake RCMP for serving our community.
-Natalie Noskey
Thank You to our Williams Lake Detachment for keeping our Community safe this morning regarding the Lockdown. I have been seeing a lot of Police Activity lately in town and it is truly appreciated that they are doing everything they can to protect us from those criminals.
-Anonymous
Williams Lake....a big thank you (more than simple words can say) to our men and women on the force. Most of us know how tough things are and how hard you try to keep the peace. I have so much respect and admiration for all of you! Keep safe.
-Lindsay Satchell
Big thanks to the Williams Lake RCMP for your quick response closing our schools today and keeping the students safe. Catching the criminal is great but doesn't hold a candle to protecting the children. Thank you!
-Sue Lothrop
I would like to thank the Williams Lake RCMP for all they sacrifice everyday to keep our families safe. Thank you so much.
-Anonymous
Thank you to the hard working RCMP members who keep our communities safe. I am so thankful for your courage and dedication. And thank you to your families as well. I pray for your safety, and for wisdom as you deal with difficult, unsafe situations.
-Rhea Clements
A Big Thank You to the RCMP for keeping our community of Williams Lake safe . A great job indeed.
Thank You!
-Denise Judd


---
Burnaby, B.C. 2016-04-23
This evening, we were pulled over by an officer from Burnaby, as I had forgotten to renew my car insurance. It was 9pm; our 2 young children had fallen asleep in the back and we were going to have to tow the car. We asked the officer if we could find an Autoplan shop, could we just quickly go and renew the insurance? He told us he would wait behind us to make sure we didn't get into a collision, and called me a taxi while my husband waited in the car with the kids. The interaction was so warm and friendly, I left in a positive frame of mind instead of the irritation and annoyance I would have
expected after receiving a hefty fine.
I wanted to write and say how much I appreciated the message my 6 year old son received - that police officers are helpful and kind and not threatening.
Thank you Officer for taking safe care of our family tonight. Your kindness is appreciated.
Sincerely,
Renu Goodenough and family


---
Surrey, B.C. 2016-04-08
I am writing to express my appreciation for the assistance I received on Friday, April 8th, from one of your staff receiving calls on the Surrey RCMP non-emergency number.
That afternoon I came out after work a the SFU Surrey campus to find a cable dragging under my car. I couldn't determine what the cable was for but I was quite concerned about it. I drove back from Surrey to New Westminster where I live. It was late in the afternoon (around 4:00) and I was concerned that I wouldn't be able to get any assistance with this so late on a Friday afternoon. I dropped by the Kal Tire on Sixth Street in New Westminster. After kindly taking the time to look at my car the assistant manager there advised me that my catalytic converter was missing and in his opinion it had been stolen. I was quite surprised by this; I had never heard of thefts of catalytic converters before.
I was somewhat concerned that this was so unusual that when I called ICBC the claims representative may not believe me. I was pleasantly surprised to find that not only was I believed, but that I was treated with complete sympathy and respect.
Next, I contacted the Surrey RCMP non-emergency number about the incident and was again treated with complete sympathy and respect. I explained the situation and in short order had the police file number I needed for my ICBC claim.
Too often people complain too much and don't appreciate what is good and works well in our society and our lives. In this case a situation that started out as entirely negative ended up turning out as well as possible because of the assistance I received from several people, including the staff person at the RCMP detachment in Surrey. I wanted to write this short note as a thank you to her, but I am sending it to you in the hope that she gets the recognition she deserves from her manager for a job well done.
Graeme Bowbrick


---
Williams Lake, B.C. 2016-04-12
I'd like to express our gratitude to two RCMP officers who attended our house fire on Friday evening. I have the male officer's name as Cst. Chris Hansen and there was a female with him, blond hair. They were SO supportive and kind. We watched our entire life go up in flames, and couldn't have asked for anyone more professional and sensitive.
Thank you for being there for our family and friends. We are truly thankful.
Mike and Monica, Jackson and Kate Altwasser
---
Langley, B.C. 2016-03-17
Just want to say thank you after we came home from work tonight to see an rcmp dog handler & dog in our backyard. He came by after to let us know the person they were looking for had been apprehended. A bit unnerving, but thankful for the outcome & the fact that we were informed. Thank you somuch.

The McClurg family.
PS, Our dog who is a lab, totally lost it. He was outside at the time & literally threw himself at the sliding door to get in. He must have known you don't play with a dog wearing a bullet proof vest.
---
Surrey, B.C. 2016-02-27
I would like to thank Constable Laura Gulaj (Surrey RCMP) for giving me hope in life, in May 2014. She was the police officer who protected me when I was at the weakest stage in life.

Prior to meeting her, I never told any police officers what I was actually experiencing since it is very difficult to speak against a family member. She provided me with a very high comfort level and reliability that I was convinced to stand up for myself and help her help me.

That day, I was facing difficulties speaking as I was extremely nervous. However, Constable Laura Gulaj was patient and allowed me to take my time. She even gave me a personal example, which made me feel confident to be able to continue with my plans to become a police officer once I grow up. To be honest, if she had not responded to the call that day in 2014, I would have probably never seek for help by sharing my horrible experiences. Her actions made me strong and allowed me to stand up for myself.

After the day she attended the call, she called back to do a check-up on me. That call gave me so much strength as I was assured that someone cares about me and I have someone reliable that I can call if I need help again. Today, I am well known in my community for my hard work and I'm working hard towards preparing myself for a career in policing to become a police officer just like her.

The day I had lost all my confidence was the same day that I gained confidence because of her. If she had not gone beyond her duties, the results may have been something that I do not even want to imagine anymore. Constable Laura Gulaj is a hardworking, caring and a warmhearted police officer who has inspired me and I will never forget her service. Thanks to her for teaching me to make the most of my life and not let any negative circumstances decide my capability.

Thank you Constable Gulaj!
---
Langley, B.C. 2016-02-25
I am a strong believer that if someone goes above and beyond, they should be thanked and recognized.
The police were called on my behalf for a domestic dispute last year. Constable Jason Ryan of the Langley detachment came to the call at the bank, where I was trying to figure out how much money I'd need to leave my boyfriend. The bank manager called the police because I gave too much personal information and she was concerned for me. Constable Ryan sat and listened to me tell my story, he didn't pass judgement, didn't lecture me or make me feel embarrassed or ashamed. He was not at all what I've always thought portrayed a police officer-cold, "this is just a job" sort of attitude. He explained everything that was going to happen step by step so I wasn't lost in the dark and he was very calming and level headed. Watching him talk to my boyfriend, he wasn't disrespectful or judgemental either towards him. You can really tell he cares and loves his job! Even after "keeping the peace" he remained in contact with me to make sure I was doing okay. He really made a difference in my life and my attitude towards police officers. I've always supported police officers because it's a career that never gets as much positive attention as it deserves but with so much negative attention the media gives, it's hard to see the good. I since have gotten back with my boyfriend, he's in AA and we're doing 100% better!
But I cannot thank you enough, Constable Ryan, for just being you! Keep up the good work!!
Anonymous
---
Kamloops, B.C. 2016-01-26
I had my first ever interaction with a police officer in my life recently. It unfortunately had to do with a sex crime investigation. As the mother of a young girl I was absolutely beside myself.
I do not have the words to express the gratitude I feel towards Constable Kerpan. She was incredibly professional, caring, and went above and beyond the call of duty in every way.
Nothing could ever fix or take back what happened, but she truly made a difference for my little girl and made her feel better. Intelligence comes in many forms, but she is obviously brilliant on many levels. I pity the person that tries to fool her.
I trusted her almost immediately with my daughter at one of the most vulnerable times in our lives. Her attitude was one of strength and no-nonsense, yet her deep compassion was palpable. She is absolutely amazing at what she does.
I want you all to know the difference you make.
Thank you for easing some of the deepest pain we have ever felt in our lives and for making the world a better, safer place.
You are everything and more that we can only dream of that a RCMP officer should be. Thank-you for protecting what is good and right.
We will never forget you.
Anonymous
---
Langley, B.C. 2016-01-19
Sending out a HUGE Thank You to the RCMP, in particular Constable Aaron Kehler, for coming out Friday night to the Hearties Family Reunion ( #HFR2016 ) for the show When Calls the Heart ( #WCTH ). The Hearties (aka Fans) LOVED having him there, especially the American Hearties! We were so thrilled to have someone come and represent "Jack Thornton" ....a character who is a #Mountie. Fingers crossed that we can do this all over again! We have made Constable Aaron Kehler an Honorable Heartie, as he hold the Canadian Heartie Pin. Jennifer Gent
---
Squamish, B.C. 2015-11-27
Good morning Cst. Shields,
When we met yesterday, I don't feel like I thanked you appropriately for assisting in the recovery of our Black Lab, Onyx. Onyx is not a dog left alone to wander We do live in a quiet neighborhood in Dentville and occasionally if we are back and forth to our car or the kids are playing the gate is left open and she will wander. This is the farthest she has ever gone. I believe that this is because she met a family with a dog on a leash and she followed and played, all the way to 7-11 where she was found by the people who reported her to you. We will be more diligent in the future. The worry we had yesterday during the time she was missing will ensure that. Our worry was ten-fold once we heard that she had made it to 7-11. The traffic there is dangerous enough not to mention that she is a beautiful dog and a very sought after breed. I believed it to be a risk that she would be abducted by someone.
I was actually in the MacDonald's parking lot as you drove away with our dog. I saw the RCMP car drive across the lot and when I asked a man nearby, he told me that a group of people and an RCMP member were looking after my dog. That was a relief! I got your call only a few minutes later. I also appreciate the fact that because you had my information that you called me directly. I have always had great respect for people that do the job you do and you showed a great example of professionalism and service yesterday. Thanks again.
If you have the contact information for the off duty officer who found Onyx in the first place, please forward this to him so that he will also know that we are grateful for their kindness and actions as well.
My colleague at The District of Squamish, Kellie McIntosh gave me your contact information this morning. I wanted to be sure you knew how grateful we all are. I know that DOS protective services was involved here as well because my wife spoke to someone at the pound who put the details together and facilitated you and I making contact. The whole system just worked well and I hope that all involved are aware of that.
Best regards,
Colin McCarthy
---
Surrey (C.-B.)2015-10-05
Good morning Bill,
As I drive to work in the dark this morning, it's dark and it's foggy along King George. I cross 64th and there's the RCMP with a car pulled over, the officer standing in the street in the dark speaking with the driver of the car. A few blocks up, there's two more cars, officers standing by a house/apartment. The lights are on, an officer is talking to someone while his/her partner stands back on the porch flashlight in hand.

In both cases, I am reminded that for your people not only does the city never sleep, but in each and every instance, you just simply don't know what the moment will bring. As I sip my coffee thinking about the complexity of my job, I don't really have to worry if my life is on the line today.

Later in the morning, I get a call from one of your inspectors, multiple cars headed to an incident elsewhere in the city and a school may be involved. Cars and support are on the way. Communication is very much appreciated and valued. I feel the precautionary measures are well in hand and I am confident all will be well. I feel valued and connected to your work.

So I thought I'd write an email. Your people do amazing work, day in, day out, no matter what the call. They are there. We value them hugely. You probably don't get enough emails like this.

Thanks to them all,
Jordan

Jordan Tinney
Superintendent
Surrey Schools
---
2015-09-07
Le message suivant a été envoyé au maire sur la page facebook.com/SurreyRCMP.
Hello Officer,
I have been composing this letter every day since May 10, the day you issued me a ticket for speeding in a playground zone. Nobody likes getting a ticket, but some people really need one. I really needed one. I was a chronic speeder and a distracted driver. My last violation ticket was more than a decade ago, and quite frankly it was long overdue. But this is the thing that makes this ticket significant to me: I create stress for myself and I am extremely tense. I am often late for events due to my own poor planning. I felt that I was always rushing, tense and pressured. Speeding helped me think that I might make it on time. And so even when I didn't have somewhere to be, the habit of pushing the the limit continued. On May 10th, I had nowhere to be. It was Mother's Day and I was heading home with my son. This means not only did I put myself at risk on a daily basis, but I also put my son at risk. So what is my point?

Well, since you handed me that blue slip - the alleged offender's copy of the ticket - every single day I have made a conscious effort to not drive over the speed limit. Every single day I realize that I need to relax and focus, and that pushing the pedal down harder will not get me to my destination fast enough to merit the risk I put on others and myself. I laugh to say that one of biggest concerns I have driving now is not knowing the speed limit in unfamiliar areas, and the times my speed gets away with me a little while going downhill.

And so I thank you from the bottom of my heart for your kindness during the transaction. How you graciously told me, It was just a mistake," when I confessed that it was hard to sign the ticket because I was shaking so badly. And I thank you for the reality check - the chance to reflect on how I allow stress and tension to creep into every aspect of my life and amplify it with inappropriate habits. I really truly feel that you have made a positive lasting impression on my life for having stopped me, and reminding me that no destination is important enough to be reckless and to have such a cold disregard for those with me and around me. I think many people feel angry when they get tickets - feel sorry for themselves to be burdened with financial inconvenience - feel resentful for having been caught and therefore make an effort not to be caught again, but not to correct the behaviour. People paint police officers as the bad guys rather than taking responsibility for their own actions.

I just wanted to take the time to thank you. It is overdue, but not - because 5 months later I have not forgotten the message you delivered with professionalism and courtesy. Thank you for doing a great job serving the community and keeping people safe. I truly appreciate the change it has made in my psyche and in my habits.
Anonymous