Police seek robbery suspect
Kelowna
2016-05-17 07:34 PDT
File # 2016-25968
RCMP are searching for an armed suspect following an early morning robbery in Kelowna.
On May 17, 2017 at 3:52 am, the Kelowna RCMP responded to a report of an armed robbery that had occurred at the 7 Eleven located on Bernard Avenue at Gordon Drive. Police have learned that the suspect entered the store, requested cigarettes and lottery tickets from the lone clerk. The suspect then brandished a knife and demanded the contents of the cash register.
The suspect fled the store with an undisclosed amount of cash.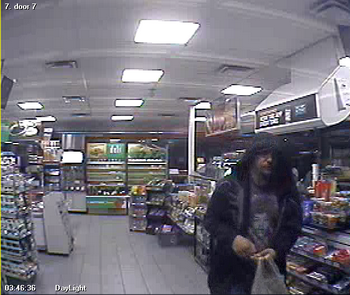 The suspect is described as:
Caucasian male;
35-45 years of age;
Darker complexion;
Light brown goatee;
Hazel eyes;
5 foot 9 inches tall;
Wearing a dark coloured hoodie and a t-shirt with a picture of a woman's face;
The clerk was not physically injured during the incident.

The RCMP continue to investigate and seek the public's assistance in identifying their suspect.

Anyone with any information is asked to contact the Kelowna RCMP at 250-762-3300. Remain anonymous by calling Crime Stoppers at 1-800-222-8477, leaving a tip online at www.crimestoppers.net or by texting your tip to CRIMES (274637) ktown.

Released by

Cst. Jesse O'Donaghey

Media Relations
Kelowna Detachment
350 Doyle Avenue. Kelowna, B.C. V1Y6V7
Office: (250) 762-3300
Fax: (250) 470-6348


Email: Kelowna_Media@rcmp-grc.gc.ca

Follow Us: