Three Weeks Now
Dawson Creek
2016-04-01 15:24 PDT
File # 2016-1547 Dawson Creek RCMP
It has been three weeks as of April 1, 2016 since Denny Poole was last seen on Highway 97 just over a kilometre south of the Kiskatinaw River Bridge.
Denny and a friend were attempting to walk from Dawson Creek to Fort St John on March 12th, but Denny never arrived at his intended destination nor did he return home. The two teens wandered the highway and backroads for some 20 hours taking what they thought to be short cuts of the back roads but appeared they kept getting turned around and did not make much headway.
The last reported sighting of Denny was around 7:30 p.m. March 12th. Since his disappearance Denny has failed to keep in contact with family which is considered very out of character for him.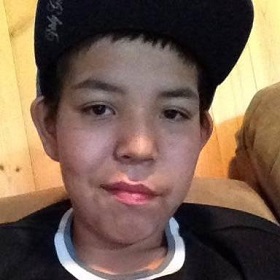 Investigators once again are turning to the public to assist them in checking any personal outbuildings or wooded areas in a wide radius from where Denny was last reported being seen. (Approximately 1 km south of the Kiskatinaw River Bridge).

Should you have any information regarding the wanderings of Denny that have not been reported to police or have any information regarding the disappearance of Denny, please call the Dawson Creek RCMP at 250-784-3700 or Crimestoppers at 1-800-222-8477 (tips).

Denny is a 15 year old First Nations youth who is described as approximately; 5'7 tall, weighing between 120-130 Lbs, Short Black hair, Brown eyes,
Denny was last seen wearing a grey DGK Sweater (DGK is in red lettering), Black jeans, Osirus running shoes, and carrying a black backpack.


Click for original media release

Released by

Cpl. D.J. (Dave) Tyreman

District Advisory NCO (Media Relations)
North District
4020 5th Avenue, Prince George B.C. V2M 7E7
Office: 250-561-3166
Cell: 250-301-3521


Email: dave.tyreman@rcmp-grc.gc.ca

Follow Us: